Specialists do it better: Valves for high pressures and temperatures
When it comes to managing and controlling extremely high steam and water pressures, REINEKE valves are the right choice. We provide shut-off, safety and control valveswhich meet extremely high demands. We always focus on our clients' requirements and offer a customized solution based on careful analysis. You benefit from our many decades of experience in the development and design of high-performance valves in a vast range of designs. REINEKE valves are used across the globe in, for example,
waste incinerators
paper mills
biomass plants
district heating plants
fossil fuel power stations
industrial facilities
Control valves are very frequently used in power-generating and other industrial plants as regulating elements in temperature, pressure and level control circuits, and also in volume regulation systems. Since the water/steam circuit in a power-generating or other industrial plant is not a permanently steady-state process, control valves are installed in lines in order to protect specific components, to permit control of the process and to increase performance. These control valves are identified in this context by their particular function, as in the case, for example, of steam conditioning valve, which reduces the pressure as well cools down the steam.
We also focus on your specific requirements with respect to mass flow, pressure and temperature . In order to ensure your valves are 100% up to completing your tasks reliably, consistently and with low maintenance, we develop our own technical concepts and carefully select suitable materials and manufacturing methods at the design stage. For example, the seating rings on REINEKE valves are always welded into the housing. A special design underneath the seal welding avoids the need for heat treatment if replacement is required after a long period of operation. Our valves can be actuated pneumatically, hydraulically or electrically – the choice is yours. And the design is geared exclusively to your specification – whether in globe, angle body, Z or T designs – everything is possible. As a specialist for control valves, we take on any challenge - even if this often requires specific design calculations, tests and analyses. You receive a quality product that is precisely tailored to your requirements.
And our components meet all European and international provisions and directives for pressure equipment.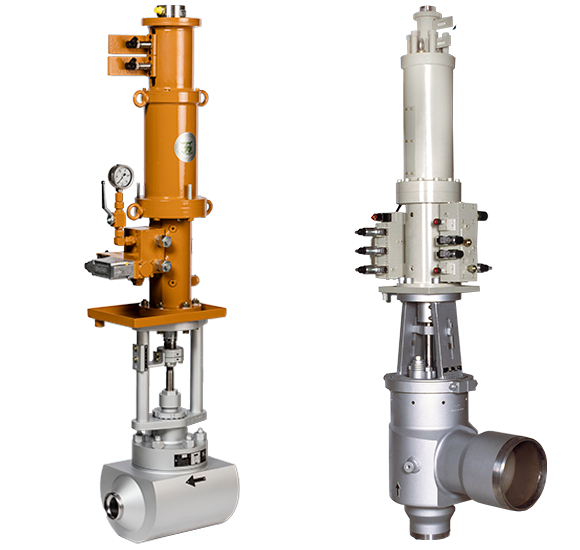 ---
REINEKE valves provide reliable protection for downstream systems
Our quality valves make an important contribution to the safe operation of your plant. We are well aware of our responsibility here. Our systems are therefore always designed to ensure optimum plant operation for any load scenario in accordance with your individual requirements. The design is sufficiently robust to tolerate stresses, vibrations or fluctuations in temperature without any disruption to the function. In order to keep wear to a minimum, in the event of significant relaxation of vapours medium, we offer an option of control valves with dump tubes which simultaneously significantly reduce noise levels. They are mostly used where steamy media in industrial plants are strongly expanded.
---
Control valves, designed specifically for your application
There are many different application areas in plant engineering where steam and water are controlled by valves. REINEKE offers customised solutions which are tailored to the specific application. If required, the valves can be supplemented with additional components. These include e.g. motive steam coolers, injection coolers, injection control valves and drain valves. In this way, you receive a solution that is completely geared to your individual requirements. All valves used in high-pressure and superheater applications are equipped with self-sealing cover sealing systems.
Steam control valves:
To ensure steam pressures and temperatures are precisely metered to the given parameters. Control is on an equal percentage, linear or process-specific basis as required. REINEKE steam control valves are designed for precise control, high load capacity, low-maintenance continuous operation and short inspection times. Bodies with particularly low zeta values and large expansion chambers, above and below the seat, developed according to fluidic engineering aspects, together with single or multi-stage control sets, form the basis for high control performance and large control ratios. The control valves are single-seated in order to take advantage of their low residual leakage.
Turbine bypass systems:
These provide safe and correct start-up and shut-down for turbines. They also protect the turbine from damage in the event of disruption by taking the resulting available steam and feeding it in a cooled state to the reheater system in the boiler or the condenser. REINEKE has developed special solutions which have proven to be very successful: low-pressure bypass systems and medium/high-pressure bypass valves. In the event of a load shedding of the turbine - caused by fluctuations in power consumption or a malfunction - a diversion station takes over the steam, diverts it to the downstream system and thus performs its protective function.
Spray water control valves:
They regulate the temperature in the final stages of the superheater and, in the case of steam-conditioning valves, dose the required cooling water by introducing injection water in a controlled manner into the downstream valves or coolers.
Injection water control valves from REINEKE are designed to ensure reliability even under heavy loads due to very high pressure drops. In addition, the valves are very easy to maintain. Seat ring and plug can be replaced quickly - even within one size thanks to the modular system. REINEKE injection valves are compatible with all common actuators.
Drain valves:
These valves are used on steam turbines, particularly where drainage and venting are carried out on a common collector and pressures are simultaneously maintained at a constant level. For this purpose, REINEKE drain valves are equipped with single or multi-stage cones. In this way, the necessary number of expansion stages can be reliably realized. The drainage valves are also characterized by their compact design, high tightness of the closure to avoid energy loss and long operating time.
Steam conditioning valves:
Steam conditioning valves are used in power plants, chemical plants and in the processing industry to safely and accurately control steam pressures and temperatures. REINEKE performs the pressure reduction through small-drilled-hole cage systems step-by-step undercritical and particularly low-noise. Hot steam cooling is tailored to the process of pressure reduction, creating a solid system within a valve. Theses stations have two functions: 1. Reduce the steam pressure 2. Cool the steam by spraying water. REINEKE offers two types of steam conditioning valves depending on the application: with injection cooler and with motive steam cooler (see also product catalog).
Feed water valves:
These valves control the quantity of water fed to the steam control valves. High pressure differentials occur here as well as uncontrolled vaporisation which present a particular challenge.
Please do not hesitate to contact us for more detailed information and technical specifications as well as cross-sectional drawings of sample designs. A short note will do!
---
Good reasons for choosing REINEKE control valves
Individually tailored design to your specific requirements
Long operating life, high performance density and quick response times
Low mass and compact design
Easily integrated into existing systems when exchanging or extending
Stable plant operation due to high control accuracy
Optimum match to your requirements, including choice of materials and design
Easily upgraded design
High quality standard, years of experience and first-class global reputation
Professional installation and regular maintenance by REINEKE on request
product catalog Technical specifications
---
If you would like to know more about REINEKE control valves or have an existing project, contact us here to start the conversation!