Gas measuring devices from REINEKE: For those who value precision, reliability and safety
When you need to measure the valency of gases, our systems deliver reliable values – no matter whether it is natural gas, blast furnace gas, coke gas or other types of gas or mixtures of gases.
Gas measuring devices from REINEKE deliver measured data regarding calorific value, Wobbe index, minimum air requirement and density. This is used to analyse the combustion behaviour of gases in order not to overload the burners. The high level of precision provided by measuring devices from REINEKE pays off especially in sensitive temperature ranges and applications.
Measuring devices from REINEKE are used in steelworks, blast furnaces, the petrochemical industry, power stations, air mixing systems, gas turbines, cement works, porcelain factories, incinerators, lime works and other industrial plants where gases are measured. We have references from all over the world.
The first choice – even when combustion gas quality fluctuates
Just how reliable our measuring devices are, can be seen when fluctuations in combustion gas quality have to be adjusted in a very short space of time. The REINEKE RBM measuring system supplies updated, reliable measured data every 1.5 seconds, continuous operation.
The physical properties of the process gas are constantly detected with the aid of the non-calorific measuring method, i.e. average density, average molar mass and residual oxygen content in the exhaust gas. Even potentially unknown gas components are taken into consideration in the measured results in the process. This is particularly important when gases used in industrial furnaces occur in other processes, for example at steelworks or refineries, etc.
The use of high calorific value special gases such as coal mine gas, biogas, coke oven gas or gases in the chemical industry is possible thanks to precise measuring methods. These process gases represent an important energy reservoir and increasingly serve as a valuable fuel. The process gases, sometimes mixed with natural gas, are used, for example, to operate a power plant boiler to generate electricity. This is possible because REINEKE's measuring method measures the process gas as a whole immediately before combustion.
Thanks to measuring devices from REINEKE, these can be used safely, economically and in an environmentally-friendly manner since the Wobbe index, calorific value and air requirement are determined accurately and continuously. The combustion process can therefore be controlled precisely and optimised at all times. .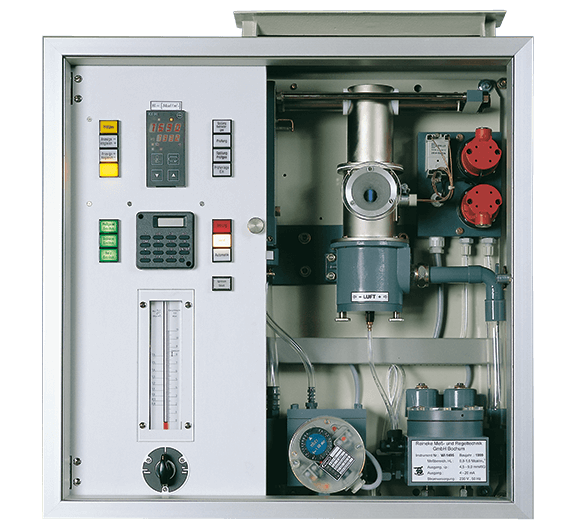 ---
A decision for high security of investments: gas measuring devices from REINEKE
Use our mature technology that offers you plenty of benefits:
tried and tested technology and modern measuring methods for reliable data
designed for continuous operation in industrial settings – even under adverse conditions
very short response time (T90 = 10 sec.) with simultaneously very accurate measurement (+/- 1% for natural gases)
can be used to measure gases of all kinds
exact measured data even when gas composition fluctuates widely
one system for the key measurement data, e.g. calorific value, Wobbe index, density, minimum air requirement
individually configurable for your specific requirements
simple operation using touch screen
informative graphic presentation of the detected measured data
robust construction
TÜV-tested safety, certified to DIN EN ISO 9001
You benefit from the experience and know-how of a renowned manufacturer of gas measuring instruments and quality "Made in Germany
expert installation and regular servicing by REINEKE available on request
Tell us your specific requirements and make use of our competence for consultancy, planning and implementation. We would be happy to send you detailed information about the RBM 3000 gas measuring device beforehand. (RBM comes from the German for REINEKE combustion gas measuring system).
Contact us here!