They work when it matters: Steam test units by REINEKE
Steam test units by REINEKE are the first choice whenever it is a question of safely checking and safeguarding water-steam circuits that work under enormous pressure. Electronic pressure monitoring systems – as they are also called – are used in coal-fired power stations, in waste incineration plants, in gas and steam power plants or other plants in which piping systems, steam boilers or pressure vessels have to be safeguarded against excess pressure. If these valves have to perform not only shut-off tasks but at the same time control tasks, Reineke pneumatic or hydraulic actuators are the first choice. REINEKE plans, designs and manufactures everything from a single source, and always offers you solutions that are tailored exactly to the requirements of the operating company or plant manufacturer. Our steam test units comply with SIL classification up to level 3. To obtain this classification, the component is certified by an independent third party. A low risk of failure in accordance with IEC61508 (SIL= Safety Integrity Level) is thus guaranteed. If necessary, the experienced engineers at REINEKE can also develop customised solution for higher or very special requirements. To do this, simply get in touch with us.
Note on SIL classification: The standards IEC 61508 and IEC 61511 define four different safety levels, also known as SIL (Safety Integrity Level). They describe the actions to control the risks of these components. The SIL level for the respective steam test unit is calculated by the engineers at REINEKE up to level 2, and from level 3 on by another, independent party. Insurance companies and authorities require a SIL classification for plants that have to meet safety-related requirements in order to prove that the residual risk of the plant is sufficiently reduced.
In steam test units by REINEKE, only high quality pressure transmitters are used. They offer the following advantages compared to conventional switches:
very high measuring accuracy
very low drift, i.e. measuring deviation
All steam test units are certified according to a current component reference. All the requirements of the "old" standard TRD 421, DIN EN ISO4126, AD sheet A2 (Technical Rules for Steam Boiler Equipment Safety devices against excess pressure - safety valves - for steam boilers of Groups I, III and IV) and the safety concept in accordance with IEC 61508 are of course fully satisfied.
On request, we can calculate for you the entire SIL loop (steam test unit + actuator + valves).
---
Intelligent electronic monitoring of steam test units thought through
While other manufacturers are satisfied with indicating malfunctions in pressure monitoring systems simply by means of pressure switches and signals through relay contacts, REINEKE controllers can do more. Thanks to DESYsmart (DESY = Druck-Erfassungs-SYstem) the electro-hydraulic or electro-pneumatic actuator systems offer you more operating comfort, more safety and more response time in case of a fault. This development by REINEKE makes it possible for you to read off the status of the installation at any time on a display with touchscreen functions (in several languages as well). The optional online connection makes it possible, if necessary, to call the measured values from the pressure detection function at any time in real time. The use of high-quality transmitters saves the operating company from having to use additional expensive measuring systems in the steam circuit. Safety valves and safety shut-off valves can thus be systematically monitored and if necessary controlled. You also have access to change or history logs, as well as all error messages that the system has detected and logged. However, DESYsmart monitors not only the smooth running of the system through permanent measurements, but it also automatically triggers suitable measures in the event of a fault – for example, the closing of the valve. The triggering of the specified safety function is effected through three independent lines.
If you also want to keep a constant eye on the temperatures in the system, we also recommend TESYsmart (Temperatur-Erfassungs-SYstem). This unit was specially developed by REINEKE to provide protection from excessive temperatures in the steam circuits of power plants. The temperature-dependent control concept can be tailored exactly to your needs.
Both systems also have integrated self-diagnostic routines, in which the recorded measured data are automatically checked for plausibility. This is not a simple 1 out of 3 solution, but is one step ahead of the market. Thanks to this comfort feature, a fault can be diagnosed in advance and the risk of negative consequences for the plant can be minimised (system shut down (costs), damage to components, etc.).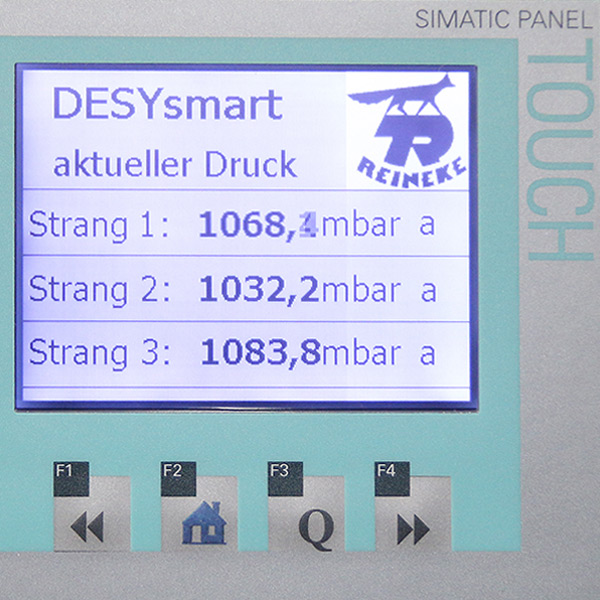 New generation of intelligent electronic monitoring of steam test device
The new version of DESYsmart PLUS / TESYsmart PLUS provides for the operator an extended comfort function.
All faults and status changes are now stored in a HISTORY for later traceability. The display has also been updated. In addition to a current colour touch control panel, the customer now also has an USB interface availability.
Internal improvements of individual electrical circuit breakers, acknowledgement by the control room and optional bus communication via cable or fibre optic round off the new generation DESYsmart PLUS / TESYsmart PLUS.
---
Complete solutions from REINEKE "Made in Germany"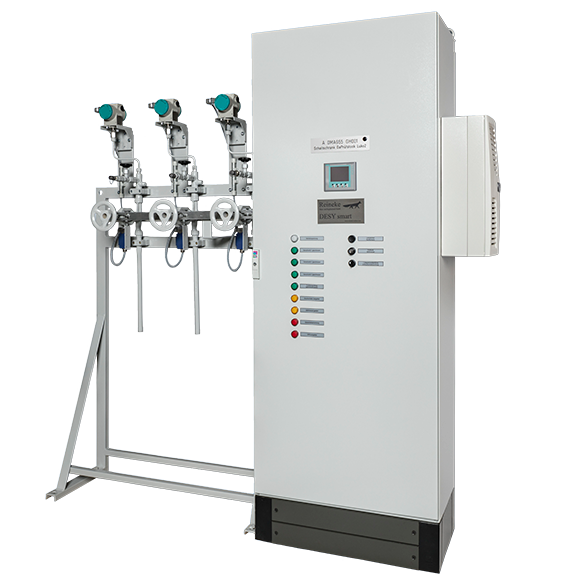 REINEKE offers you everything from a single source:
Steam test unit + pneumatic actuator + valves
Steam test unit + hydraulic actuator with external supply station + valves
Steam test unit + hydraulic actuator with external supply station (valves enclosed)
Steam test unit + compact hydraulic actuator + valves
Steam test unit + compact hydraulic actuator (valves enclosed)
We accompany the project from planning through to commissioning.
All components required for the construction of the steam test unit bear the label "Made in Germany" and are subjected to strict quality control before installation. You will not receive a product "off the shelf", but a high-quality component, tailored precisely to your requirements. If you attach importance to the use of products of certain manufacturers in the construction, we can also take this into account.
REINEKE offers you not only indoor (indoor installation) but also outdoor solutions (outdoor installation) for complete systems. This also applies to special requirements – for example, when operating in regions with high or low outside temperatures or in onshore operation, where the harsh maritime climate demands a high level of quality from the material.
Special functions in conjunction with the steam test unit are also possible, for example turbine load-dependent quick opening functions or fully redundant systems with automatic switching.
We will be happy to provide you with detailed information with design examples, measuring tables and technical descriptions. Simply click here to request.