Proven technology that can meet even the most extreme requirements
Whenever it is a question of applying high actuating forces combined with fast or short actuating times with high levels of control quality, even under extreme conditions, electro-hydraulic actuator systems by REINEKE are the best choice. The hydraulic units, referred to as actuator systems, are oil supply units and hydraulic cylinders connected by means of a piping system, and are used to actuate valves or groups of valves.
Even large actuating forces (up to 3,000,000 N) and actuating torques (up to 700.00 Nm) can be precisely controlled. You have the choice between continuous control, step control and open-closed function. At the same time, it is possible to actuate multiple, independent actuators using one common hydraulic system. A redundant version with automatic switching is also possible if required.
---
Electro-hydraulic actuator systems by REINEKE are used worldwide – for example, in
conventional coal-fired power plants
extremely critical power plants fired using fossil fuels
combined power plants
waste incineration plants
desalination plants
process steam systems
production plants in the pulp and paper industry
bio-mass
Our hydraulic actuator systems are adapted precisely to your requirements. In planning, design and production, you can always benefit from our 40 years' experience and over 2,400 units delivered.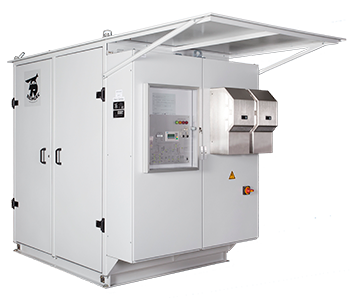 ---
High-quality materials, precise manufacturing and robust technology guarantee safety
Safety always has top priority for REINEKE engineers. Should there be an energy failure in the electro-hydraulic actuator systems, we offer a variety of fall-back scenarios:
Blocking at the last control position
Moving to the end position by means of a hydraulic accumulator or through spring force
Sufficient dimensioning of the accumulator for "emergency strokes"
Design for indoor or outdoor installation, offshore plants or extreme temperatures
Redundant programmable logic controllers from reputable manufacturers (e.g. Siemens, General Electric (GE) or Allen Bradley), in order to improve the availability of your application.
Approval for pressure vessels in accordance with national standards, e.g. DOSH, DPEM, ASME, pressure equipment directive (PED)
We are also happy to face up to special challenges – for example, if you require a hydraulic actuating system in potentially explosive areas of the plant or an application in accordance with IEC61511 (SIL). We would be happy to develop a tailor-made solution for you. Simply contact us here for a first meeting..
---
Actuator systems by REINEKE – pioneering technology coupled with knowledge from 80 years
The internal control of our actuator systems, and monitoring with signal exchange using control station technology, is effected with the help of a programmable logic controller (PLC) and a graphic touch display on site. On request, we can offer you the option of a plain text display for all operating conditions, signals and fault messages. Integration into a single or redundant bus system is also possible. We can offer you tailor-made solutions that also meet the requirements of the future.
Use the competence of REINEKE
Precise actuator systems, exactly tailored to meet your requirements.
High security of investment thanks to high-quality materials from Germany/EU and precise workmanship.
Robust construction, also designed for demanding environments.
Designed for very high actuating forces and fast response times.
On request set-up, piping installation and routing of the connecting pipes by the well-established REINEKE assembly team.
Commissioning and service.
Please ask for detailed information and descriptions. Click here to go directly to the contact form..